HOLIDAY SALE
30% off


Temperatures is the perfect gift for the ceramic lover in your life. From now until December 12, buy Volumes 2 & 3 together for $28 (+ shipping).



---
TEMPERATURES is an occasional publication about artists using clay. Each 24-page issue focuses on a single artist whose distinctive sensibility is advancing the conversation around ceramic art. The design and concept of the issue is a collaborative process that utilizes the printed format to provide a more expansive context for the work.
VOLUME 3

---
Vol. 3 features
Rocío Olivares
(CL) and her recent ceramic series
Espalier
. Designed to resemble a seed catalog for rare plants, this issue reimagines Olivares's sculptures as part of a multi-level marketing scheme, a pervasive social phenomenon she observed in Santiago during the pandemic lockdowns. Still life photographs depict the ceramics in constructed, faux-natural, highly commercial scenes, highlighting the elaborate mechanisms of visual deception at work in bogus retail schemes. This seductive, imaginary project calls into question the value of unique art objects and the systems that perpetuate their scarcity. Photographs by Paulina Kim Joo & José Gutiérrez A.; glaze recipe by Ester Sjölin.
Edition of 200; 24 pages, saddle-stitched, 7 5/8 x 10 in. $20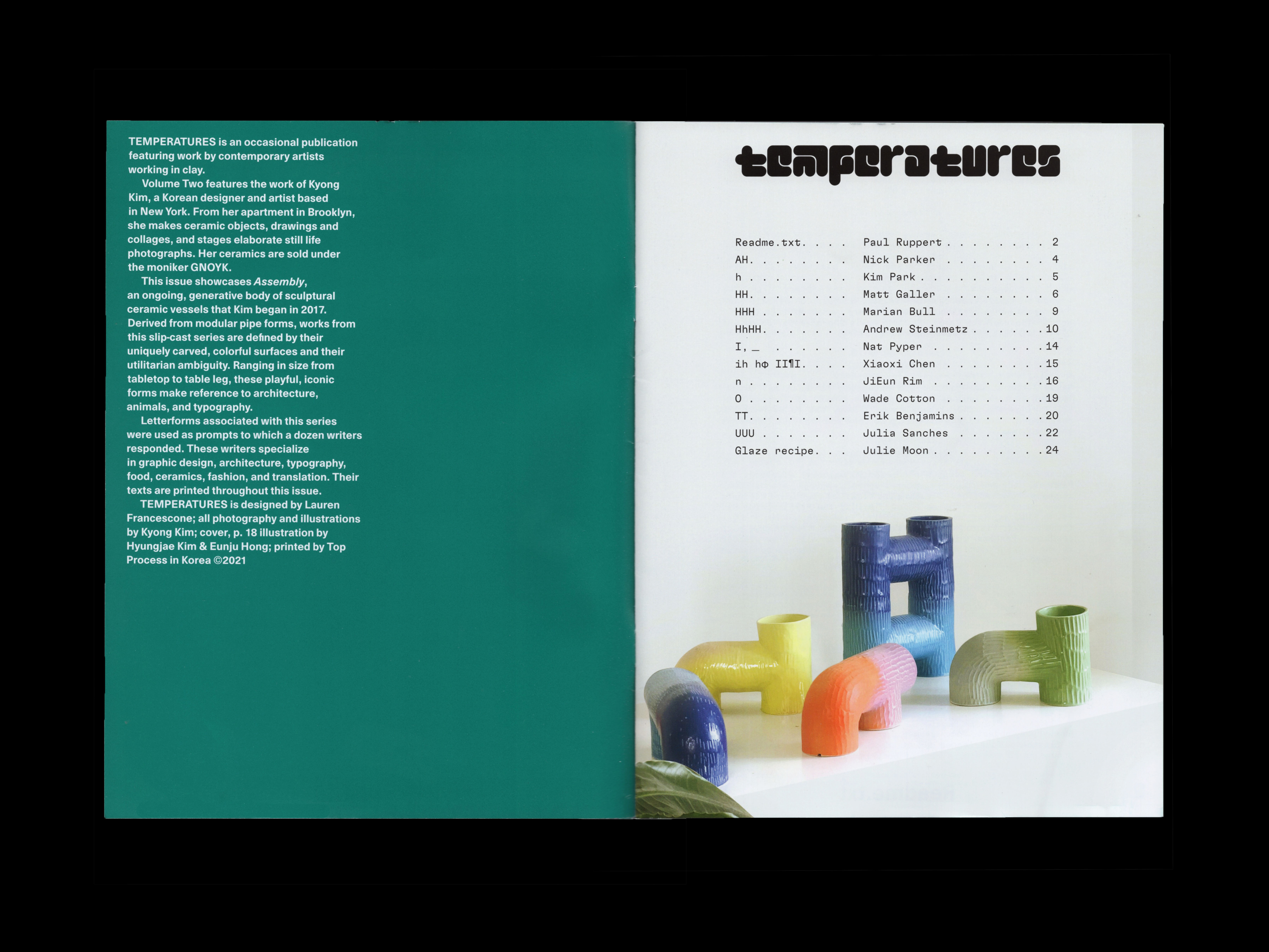 VOLUME 2

---
Vol. 2 features the work of artist and designer
Kyong Kim
. This issue showcases
Assembly
, an ongoing, generative body of sculptural ceramic vessels that Kim began in 2017. Derived from modular pipe forms, works from this slip-cast series are defined by their uniquely carved, colorful surfaces and their utilitarian ambiguity. Letterforms associated with this series were used as prompts to which a dozen writers responded. Contributions by Erik Benjamins, Marian Bull, Wade Cotton, Xiaoxi Chen, Matt Galler, Julie Moon, Kim Park, Nick Parker, Nat Pyper, JiEun Rim, Paul Ruppert, Julia Sanches, and Andrew Steinmetz are printed throughout the issue. Eunjoo Hong and Hyungjae Kim contributed illustrations.
Edition of 200; 24 pages, saddle-stitched, 7 5/8 x 10 in. $20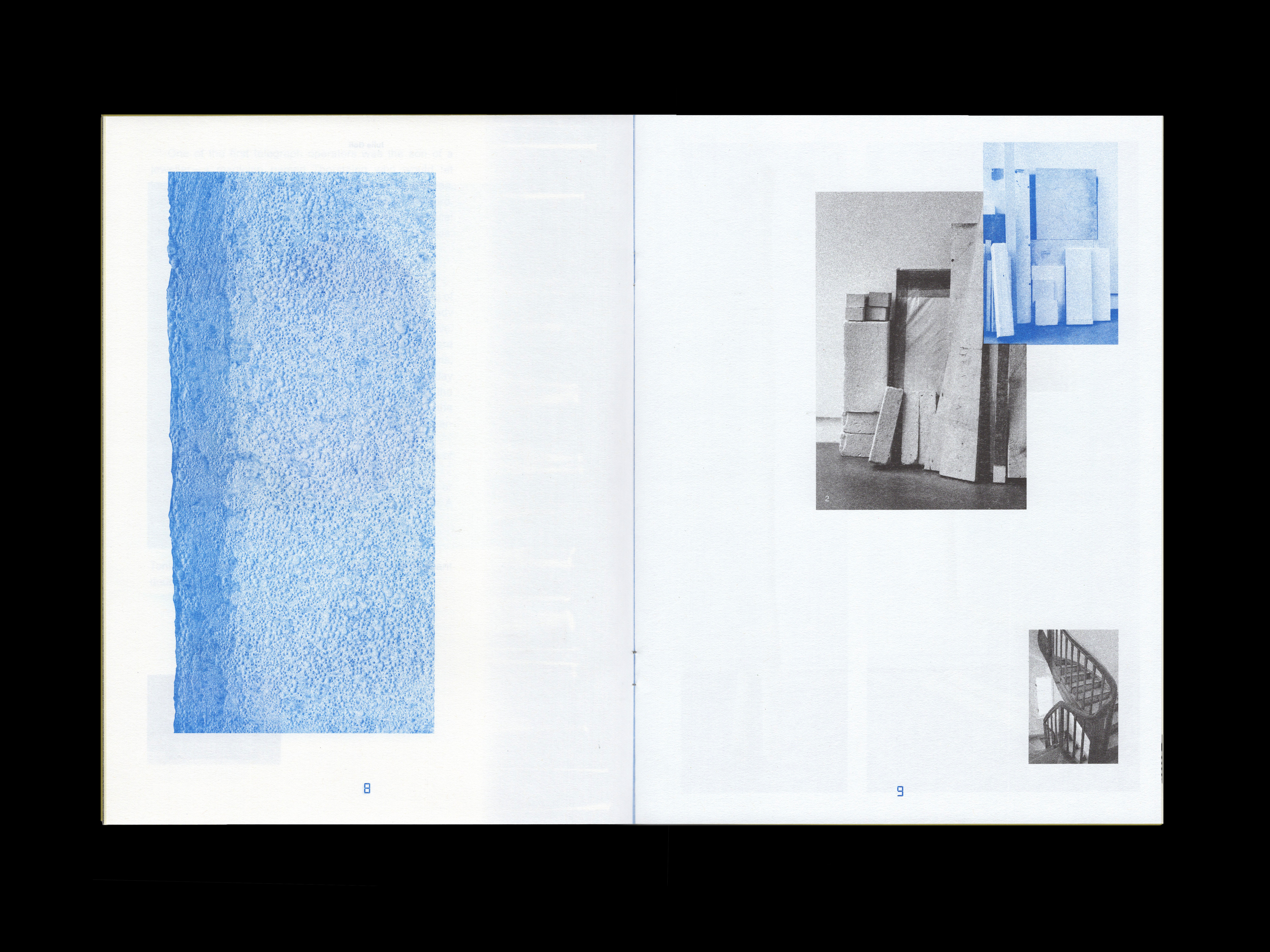 VOLUME 1
---
Vol. 1 is a collaboration between Julie Goll and
Vanessa Kwan
. For over a year, Goll lived in the home of deceased ceramicist Eva Moshack. Her resulting body of written and sculptural work is in TEMPERATURES for the first time. Kwan responds in a parallel essay on intergenerational relationships, ghosts, and the paranormal.
This risograph edition of 200 was printed in Canada at
Moniker Press
; 24 pages, saddle-stitched, 7 5/8 x 10 in. $20

SOLD OUT


TOTE BAG
---
Carry your books in style with the cobalt blue Temperatures tote. $10
---
TEMPERATURES is designed and published by
Lauren Francescone
.
For information on future issues and stocking please contact info@laurenfrancescone.com.
︎
---